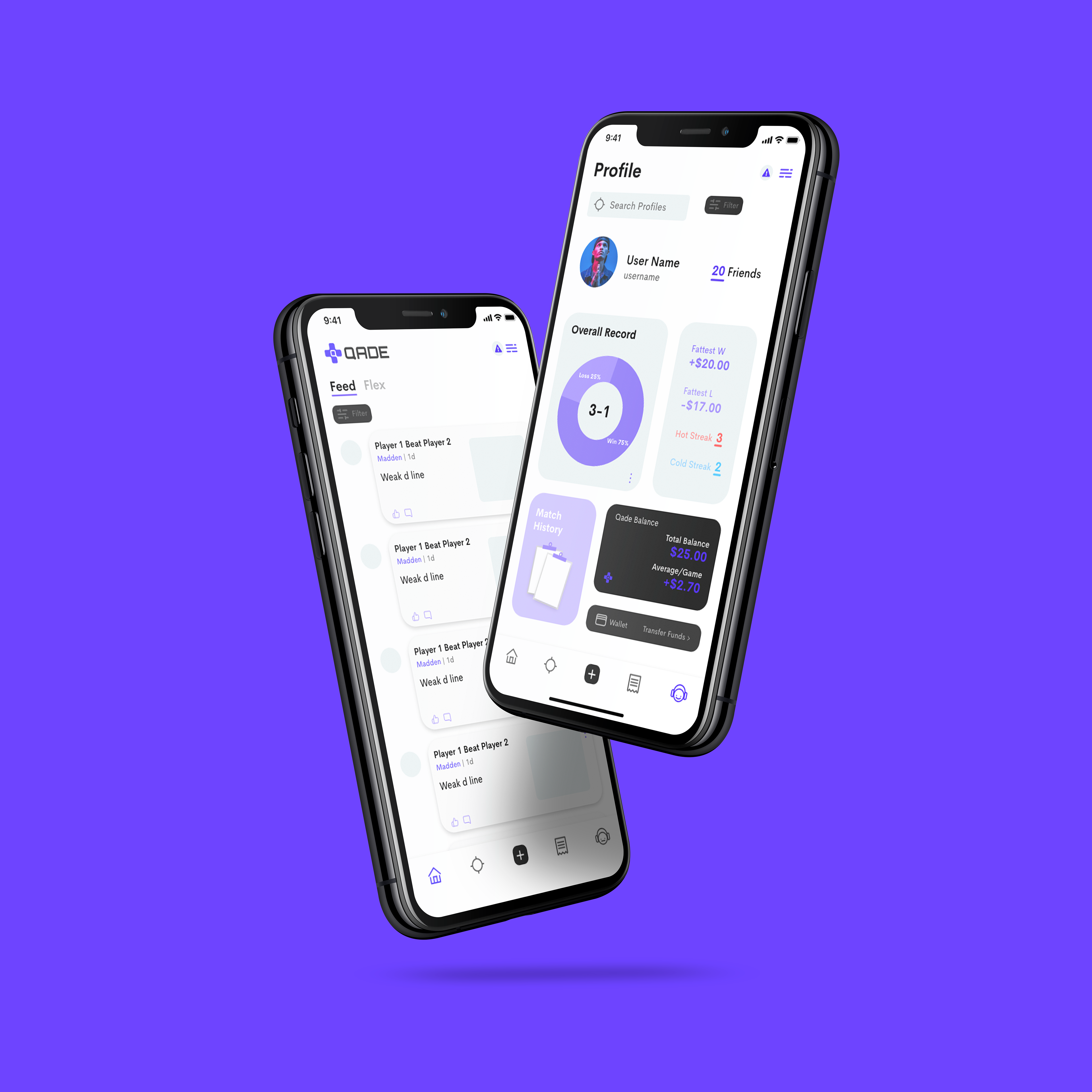 In summer 2020, I interned for Qade, a five person student-led startup elevating social gaming through friend v. friend stat tracking and betting. 
I led design working closely with the engineer as we approached the next update. 
I was tasked with rethinking the app's user flow to increase user engagement and finding innovative ways to design new features.
In the initial launch, Qade didn't have a designated home feed. After noticing user engagement was dropping off, we really wanted Qade to feel like a community where friends could interact with one another and stay up-to-date on their latest matches. 
The Feed would ideally spur conversations between friends, whether it be about bragging rights or justifying their performance. I aimed to emulate the feeling of a continuous chat room by keeping the profile icon outside of the message bubble stylized post. Users are also able to add a GIF to add to the lighthearted vibes we were going for.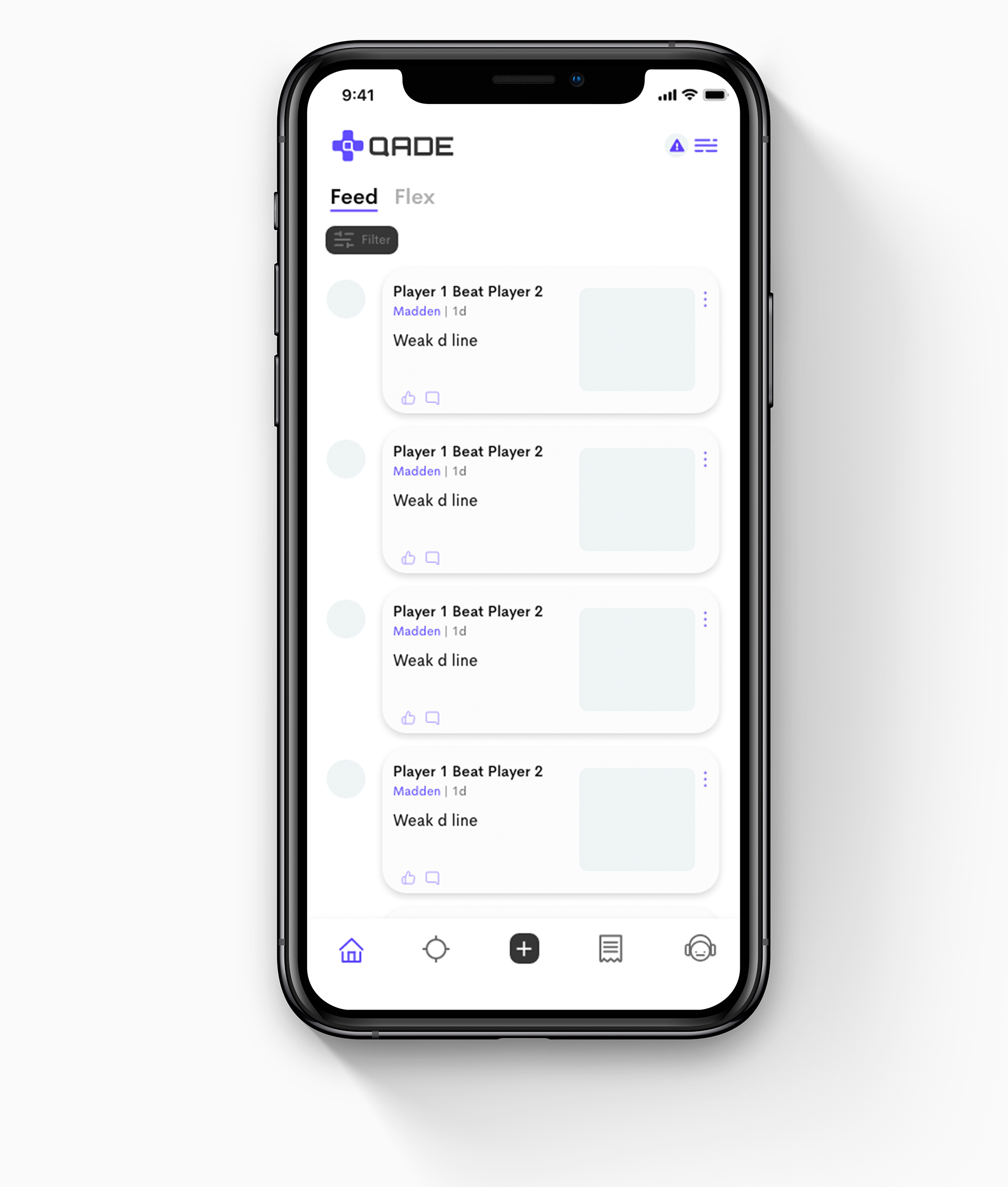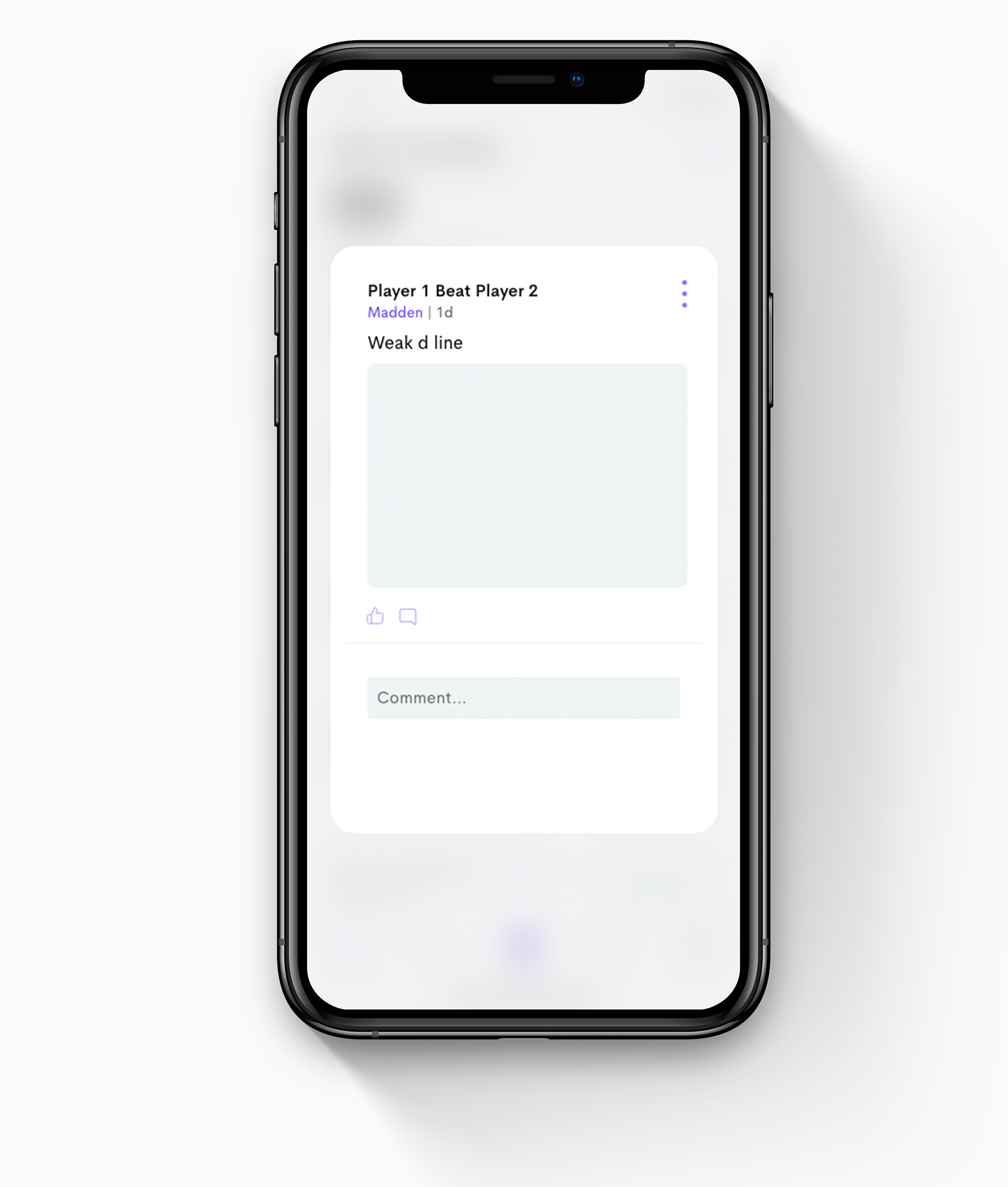 Aiming to be a more casual space, we titled the ranking page "Flex". It's broken down into key stats–
"GP" (total games played), "W" (total wins), and "L" (total losses)
. The gradient offers a visualization of the ranking tiers.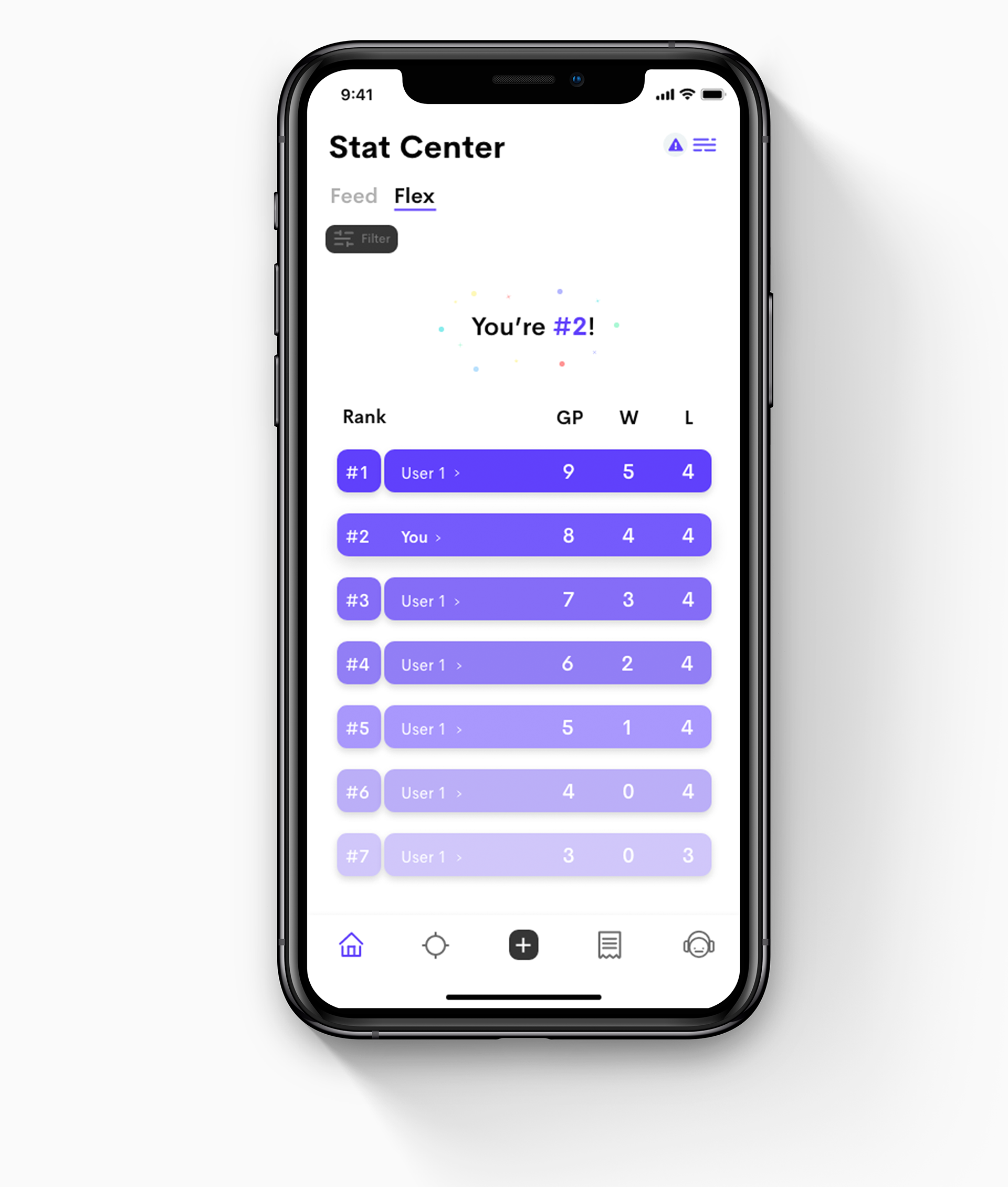 Creating a consolidated place for current friends and incoming friends request was important to streamline navigation in this new version. Previously, the friends list was found on the Home page, while incoming friends requests were found on a separate page. 
The crosshair/viewfinder icon is a common motifs used in game designs for locking onto something or someone. I included it to represent searching for other users.
​​​​​​​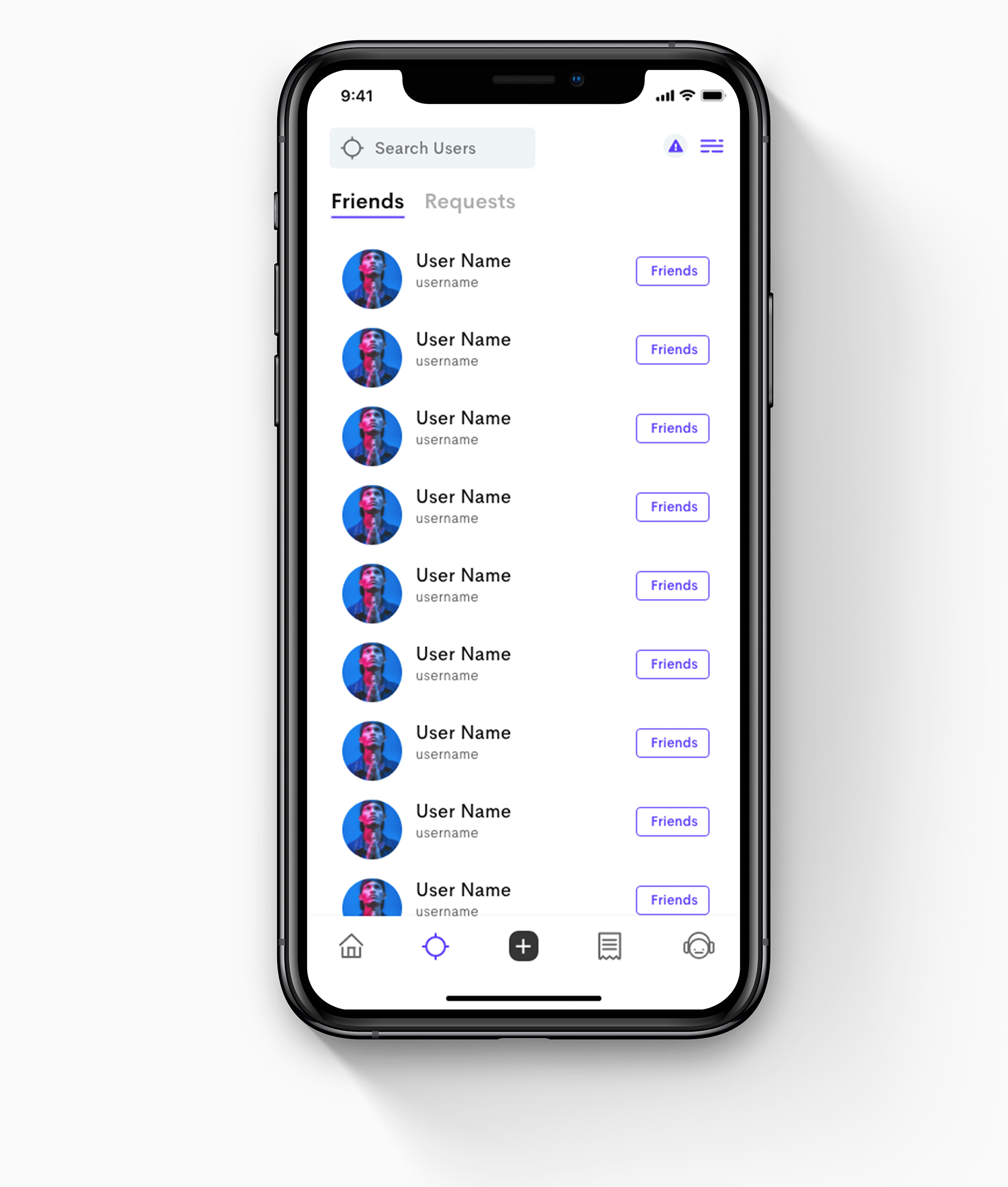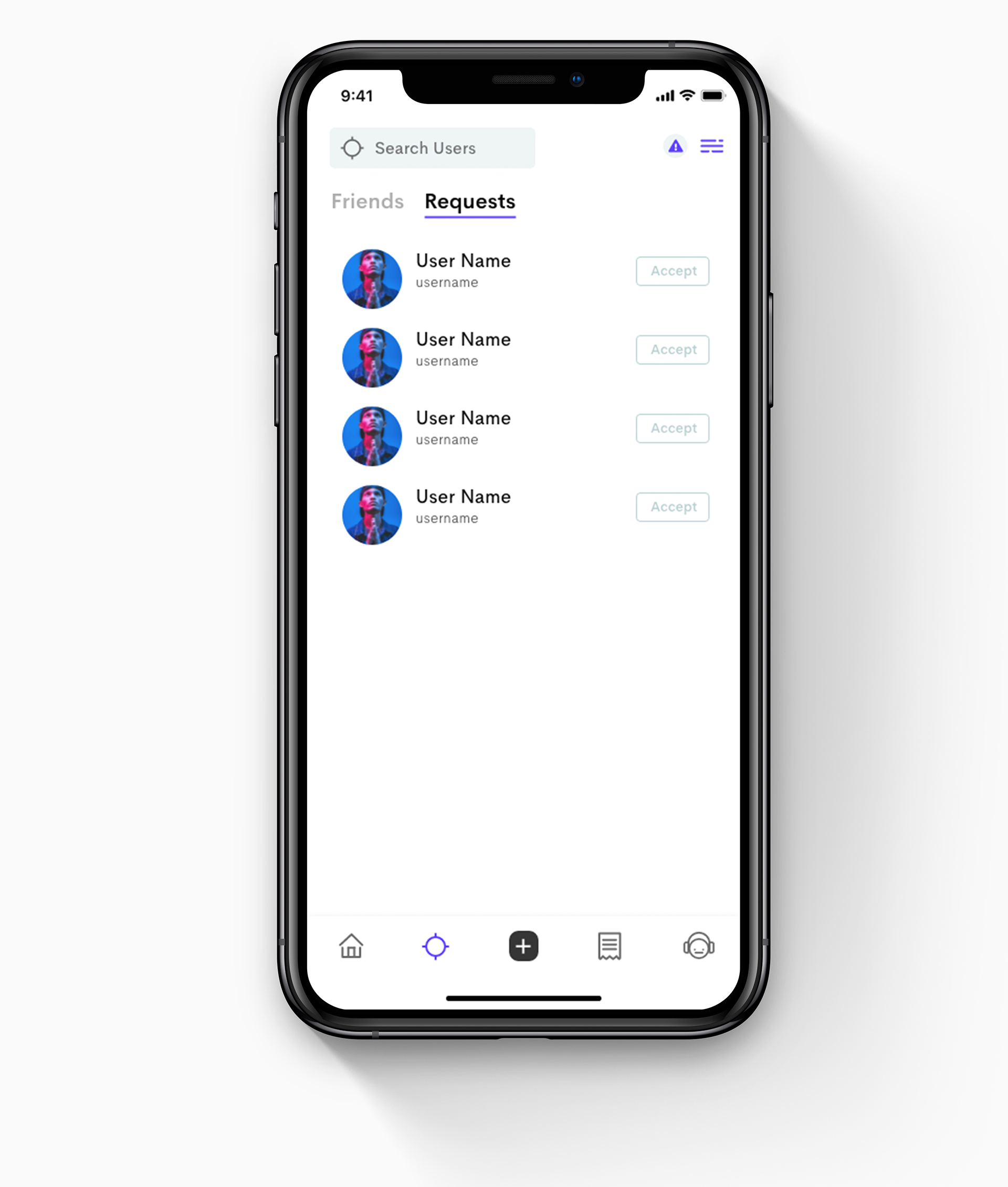 Simplifying the transaction process
After the initial launch, we received feedback from app store reviews and one-on-one user interviews that there was too much friction when submitting games. 
I tried to break it down into short, simple steps. 
5. Leave a comment + GIF/meme
6. Select "Won" or "Lost"
To further streamline the process, "Recents" offers quick suggestions for users to pick from their list as well as a display of frequently played games for "Choose Game".
At the end, a rundown of all the info inputted will display on user's screen as a secondary confirmation.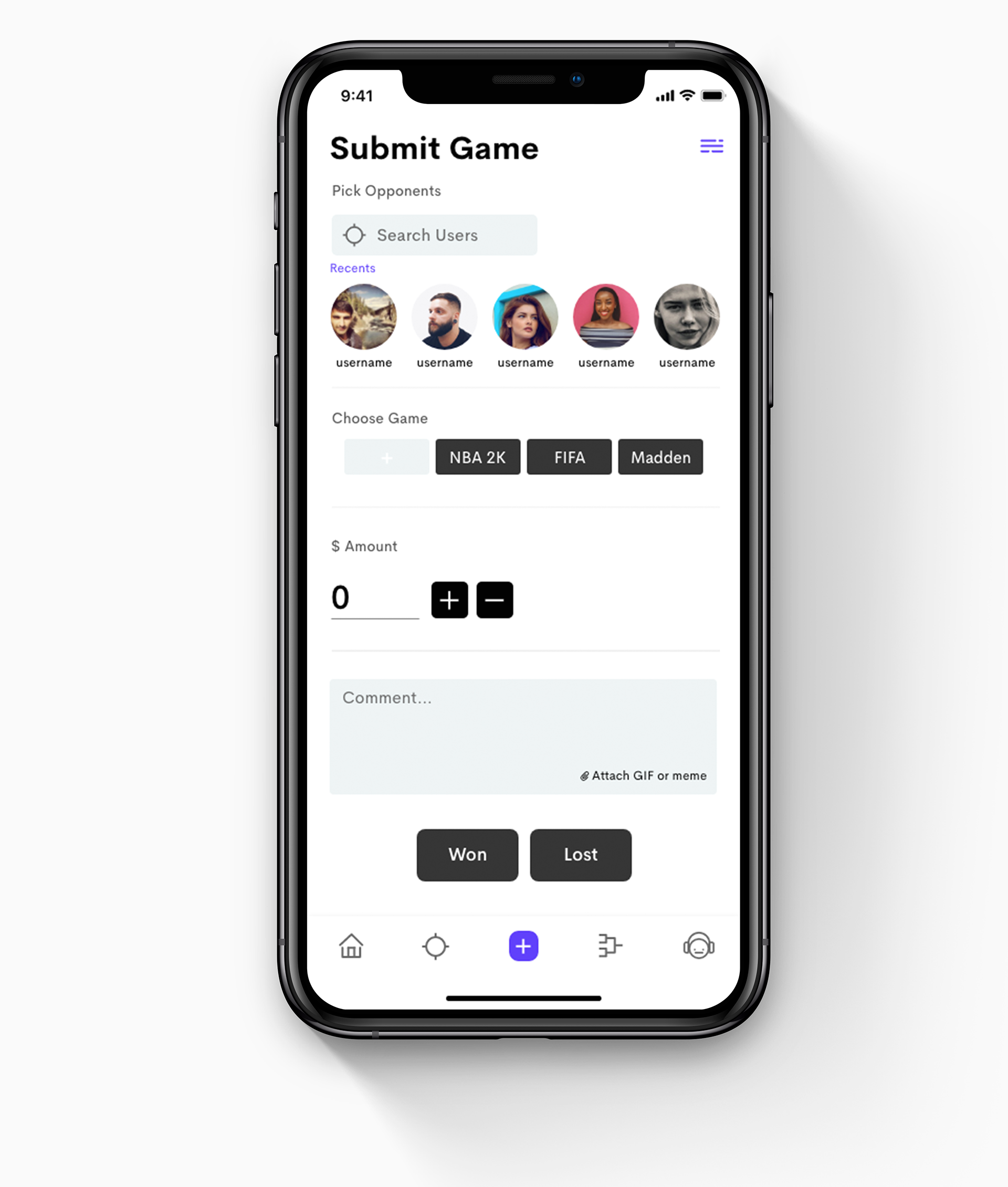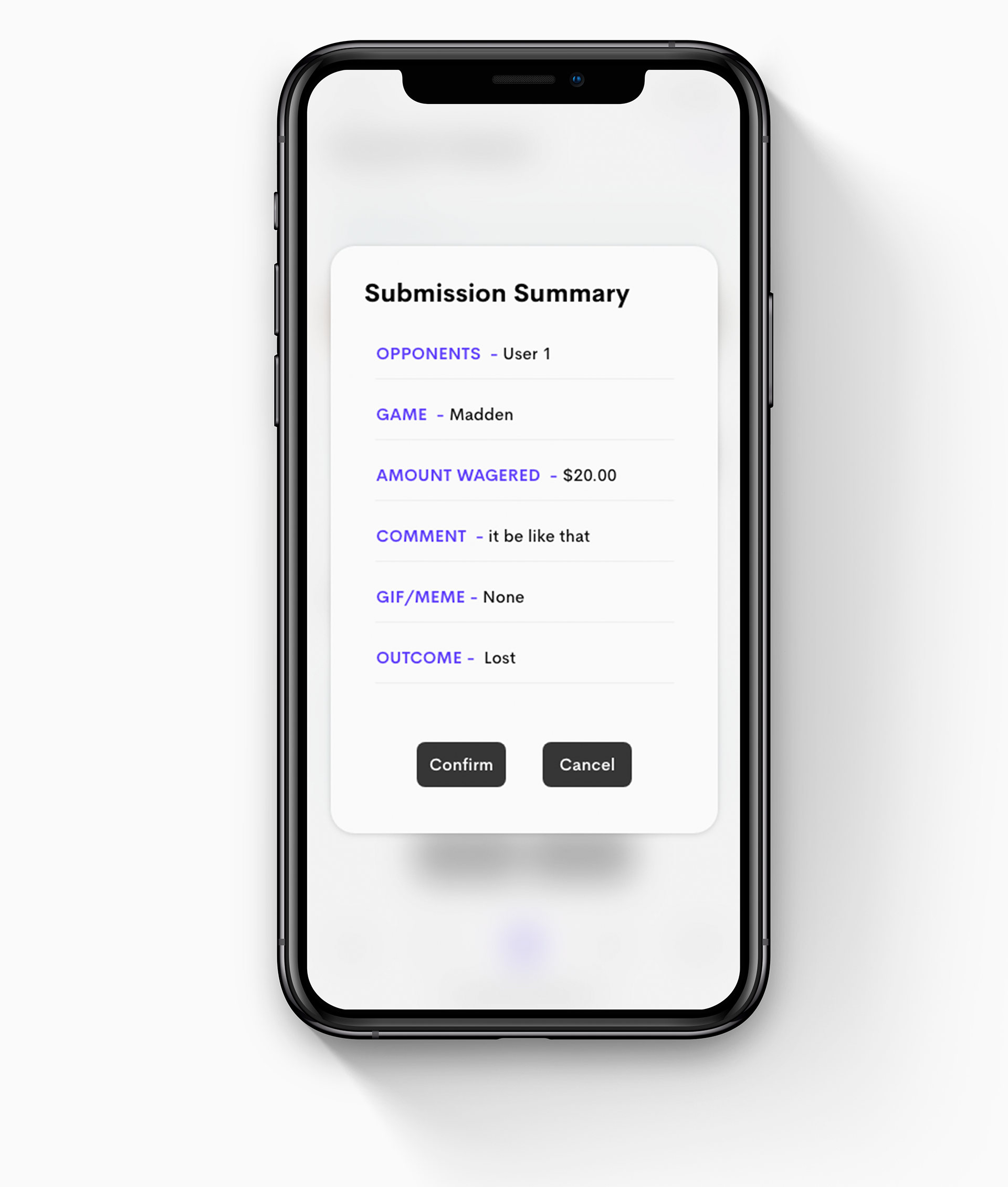 I went for a more modular organization system with widgets. I wanted to offer quick, bite-sized amounts of info on users' performances
(skimmable bragging points such as a 75% win rate or 3 game hot streak)
. 
Again, we included gaming motifs with terminology such as "Fattest W" as well as the player with a headset as the icon for the Profile tab. 
Qade Balance mimics the design of a card to display how much money players have on the account + their average earnings with the option to transfer funds. 
Match history offers a summary of previous matches and is visible as an overlay display. 
​​​​​​​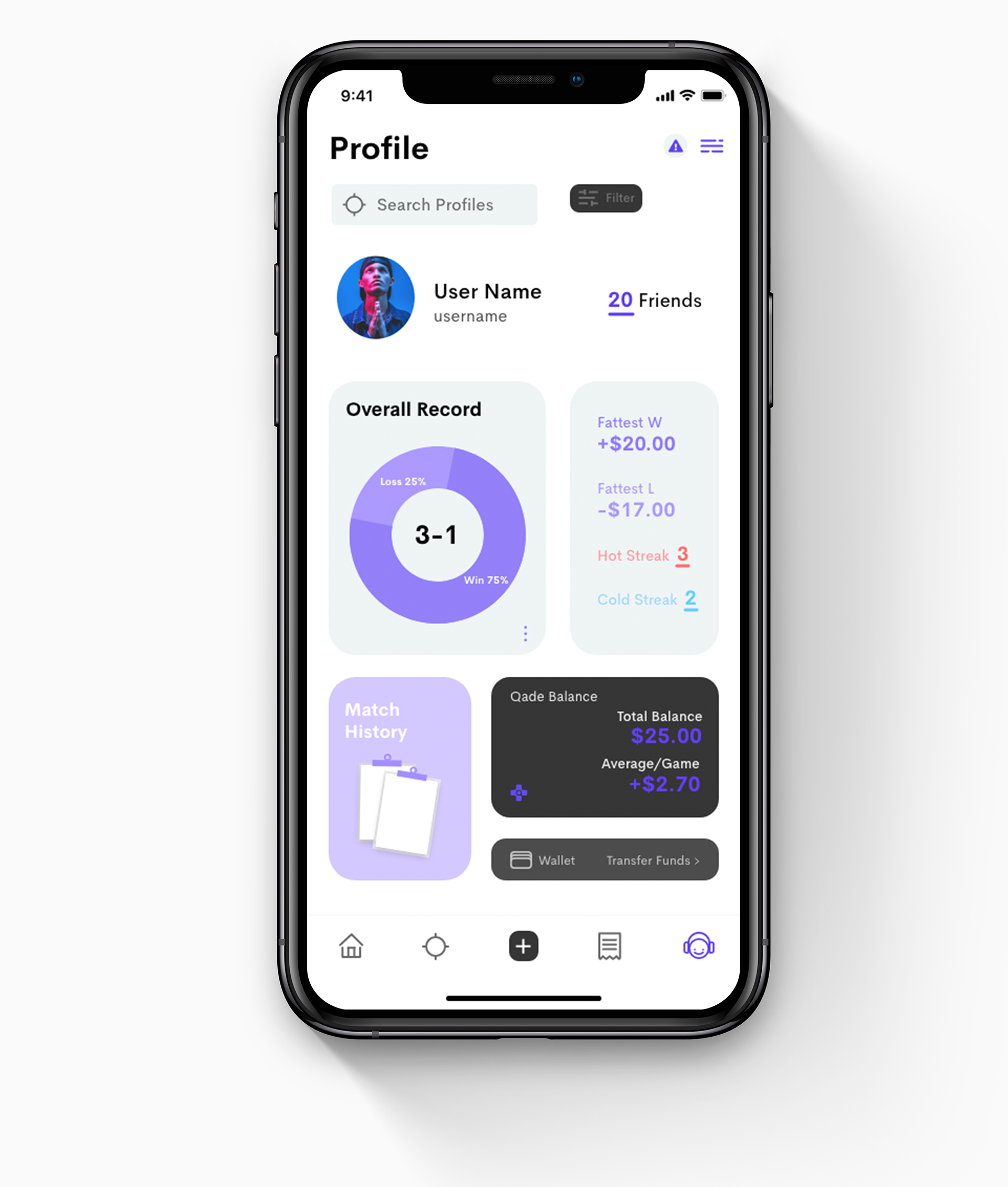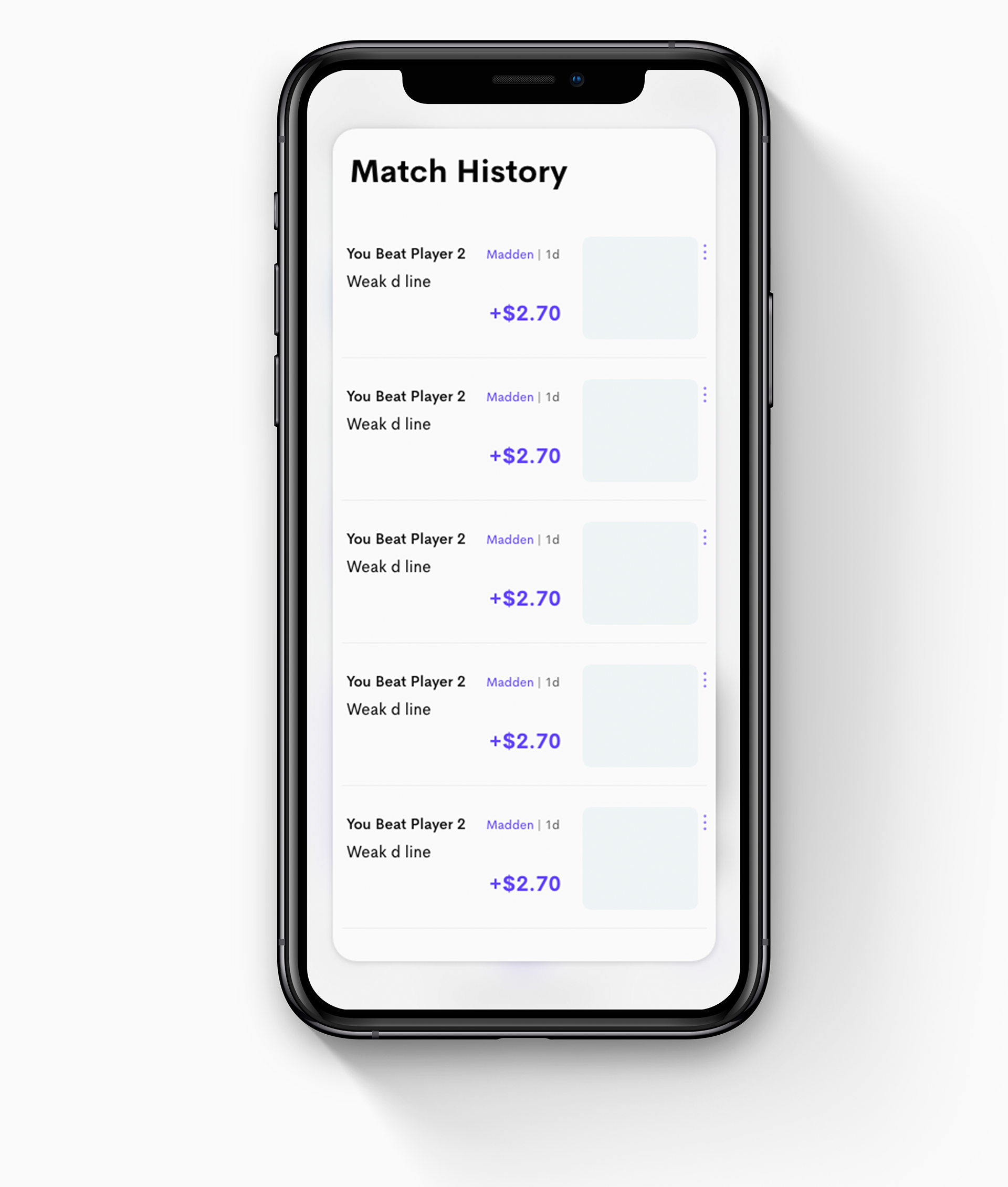 There was a huge learning curve in taking on this project – learning to take ownership of my designs, working cross-functionally, and shipping an actual product (all for the first time). While there was difficulty in not having a more senior designer to lean on, it was a rewarding experience to work on a tangible product that people can interact with, test, and give feedback on.
Following the update, we did closed-beta testing with several small groups. Each of us supervised a group of 5-7 users allowing them to test the app, weed out bugs, and send back feedback. We shortlisted new goals to tackle from increasing compatibility with more games, new ideas for the feed, and overall directions to take the app.